The e-commerce industry is expected to reach worldwide sales of $4.9 trillion in 2021. How crazy is that? That means as a dropshipping brand, there are more opportunities and customers than ever before!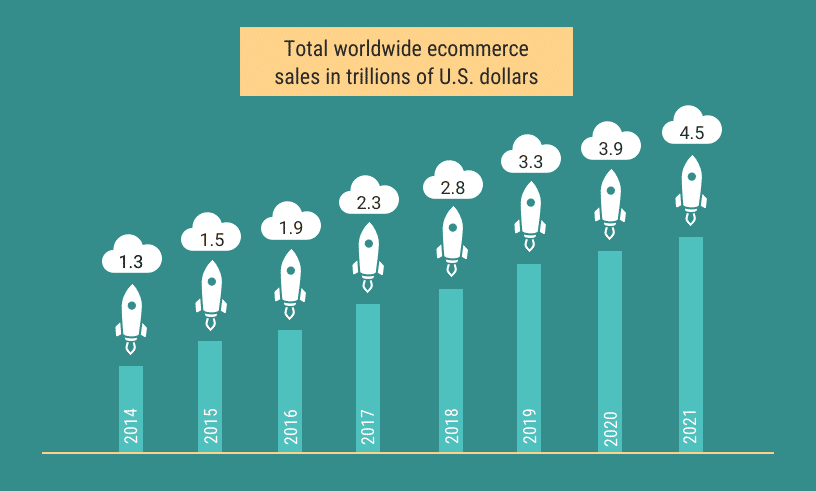 However, that also results in more competition and the challenge of standing out from other businesses. Seeing as Facebook Ads are a staple channel for e-commerce, using them correctly can help you drive more sales and conversions to capitalize on the industry's growth. That's why in today's article, we'll be covering dropshipping Facebook Ads examples and how you can replicate their success.
Rad's Black Friday Deal
This is a Facebook Ad from the French fashion brand Rad. It was made for Black Friday which we all know is the best day of the year as an e-commerce business. Naturally, your advertisements need to be top notch to drive the best results. In Rad's case, they used the "less is more" approach.
The sales copy starts with a simple call to action, "Shop our exclusive Black Friday deals." Note how they also use the word "exclusive" to communicate that you can't find this opportunity anywhere else, enticing more people to click. Rad also uses an arrow with a shortened link to its website. Instead of scrolling and clicking, this made it easier for interested customers to click through.
The creative is also straight to the point. It uses a black background (no pun intended) and white text that contrasts. It's easy to read and the 50% off benefit provides people with a clear reason to check out what Rad has to offer.
Below this, Rad used sales copy saying "50% OFF + FREE SHIPPING." Not only do you save half off your purchase, but you don't have to pay for shipping either. Who doesn't want that?
Swet Tailor Facebook Ad
This is a Facebook Ad from the fashion brand Swet Tailor. Note how the sales copy is a testimonial from one of its satisfied customers. Seeing as 92% of people read testimonials before making a purchase, this is a very intelligent strategy. Anyone that is interested in purchasing these pants will instantly see that Swet Tailor can be trusted.
Swet Tailor uses a creative that clearly displays the product in motion. In this case, a person wearing the product. Graphics points to the main features and benefits of the pants as well. These include style, comfort, and quality. Pay attention to the language and vocabulary they use. It's very specific and most likely resonates with their specific audience. Not everybody.
Taft's Holiday Sale
Here we have an ad from the fashion retailer Taft. This is an interesting example because the sales copy begins with creative sales copy "Over the hill & through the woods." Using sales copy like this helps the advertisement stand out and make it more memorable. This is followed by "TAFT shoes are built to last" which communicates that they are selling a high-quality product that is worth the money.
They then have a 20% discount which implies that the customers will save money and save on costs. Note how they use an emoji to amplify the writing. Taft creates urgency by adding an ending date to the promotion. This puts pressure on interested customers as they have to take action before the offer ends.
For the creative, Taft uses an image of boots they sell so people can see what they're buying. Since the Facebook Ad was run during the holiday, there are festive elements in the background.
They use a "Shop Now" call to action while reminding customers once again they're saving with "20% OFF Everything." Finally, a short testimonial creates social proof.
MVMT's Simple Facebook Ad
MVMT is a successful watch company that ran this Facebook Ad to promote one of its new marble design releases. The ad uses a very high quality photo that shows the watch on someone's wrist. This helps customers imagine how good it would look on them. MVMT uses the sale copy "So crisp. So clean." to summarize the watch's style. I.e. it isn't overly flamboyant or in-your-face. After that, they use two calls to action. One for the watch itself and another for matching bracelets you can also see in the photo. Keep in mind that 81% of consumers do online research before making a purchase and high-resolution photos make a big impact on their decision.
Ralph Lauren's Eco-Friendly Products
Here's an interesting one. Ralph Lauren, the fashion brand, released a new product called "The Earth Polo." It's a 100% recycled and 100% recyclable polo shirt. Firstly, this is what we call a unique value proposition. It's an item that's hard to find anywhere else and clearly stands out from the market. Secondly, offering an eco-friendly shirt appeals to a much deeper value in its customers: helping the earth and giving back. You wouldn't think a fashion brand would sell products to help the environment, right? Ralph Lauren clearly did their research to understand what its customers care about and aligned with that. As a result, this ad not only can drive sales but build loyalty.
Snapfish's Free Offer
Sometimes it's not about driving traffic directly to a sales page, it's about getting customers into your funnel so you can upsell and remarket to them later. That's exactly what the print company Snapfish did with this Facebook Ad. They use urgency by stating "Don't miss the perks of the Snapfish app!" The main call to action is to download their app which also includes free 4×6 prints but you have to pay shipping. This is a common strategy that can be used by dropshippers and other industries. The creative shows prints in various layouts with a contrasting graphic that tells customers to get the mobile app.
Allbirds 100-day guarantee
You've probably heard of 30-day and 60-day guarantees but what about 100? Allbirds, the European shoe retailer, ran this Facebook campaign promoting its guarantee that allowed customers to try out their shoes for 100 days. If they didn't feel like they were "walking on cloud nine," they could return them, no questions asked.
Let's break down this ad further. By offering such a good deal, it's hard to resist. We call this the $100 Million Offer. It's an offer that's so good, it's impossible for the customer to refuse it because they can't lose. Allbirds also implies that the shoes are extremely comfortable which is a benefit of purchasing them. The creative they use features a pair of white sneakers on top of eggs in front of a pick backdrop. This represents that the shoes are balanced and lightweight.
Beardbrand's Video Ads
The American men's grooming company Beardbrand ran a Facebook campaign that walks customers through the four steps of beard care. What's smart about their approach is the ad educational in nature. It teaches people something useful and interesting while incorporating product marketing. During each step, you can click the "Shop Now" call to action button to purchase Beardbrand's accompanying products like beard oil.
Old Navy's Weekend-Only Sale
While you might think of Facebook Ads as a way to drive traffic to your online store, they can also be leveraged to drive traffic to physical locations. That's exactly the approach Old Navy took when running their $15-off campaign as you can see above. Customers would receive $15 off their purchase if the total was $60 or more. Note how they grab attention with bright yellow warning-sign emojis and clearly state the offer only lasts "THIS WEEKEND ONLY!" Old Navy also reiterates this promotion runs until a certain date. The call to action is "Get Directions" so customers can find the nearest location while "Just Show and Save" communicates it's easy to show up and save money on a purchase.
Wrapping up today's dropshipping Facebook Ads examples
Today we looked at many different Facebook Ads from dropshipping and e-commerce brands. While they span across many different niches and target audiences, let's break down some of the main takeaways you can apply to your own campaigns to boost conversions:
Use strong calls to action instructing readers what to do like "Shop," "Check out," or "Buy."
Create a sense of urgency by limiting the timeframe a sales, promotion, or deal is available for.
Test short and long sales copy to measure which performs better.
Use photos and videos that grab attention and show off the product you're selling.
Take advantage of discounts as a way to increase sales.
Incorporate your audience's values and emotions into a campaign to deeply resonate with them.
Offer a guarantee they can't refuse.
Consider giving away something for free to collect prospect's information and get them into your funnel.
Need a team of media buying experts to grow your brand and mange your ad campaigns? Learn about our Toronto PPC services.